District Program Highlights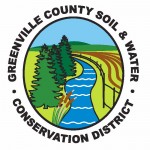 The Greenville County Soil and Water Conservation District is a special purpose district created in 1938 to protect and conserve all natural resources including soil, water, wildlife, and forestry.  Since 1971, citizens, businesses, and educational institutions in Greenville County have donated tax-deductible gifts to the Greenville County Soil and Water Conservation District.
In 2016, affiliate member contributions helped to fund:
Prizes for the 73rd Annual Essay Contest for 5th-8th graders
Prizes for GCSWCD's Annual Photography Contest for students of all ages
Conservation Mini-Grants to schools and educators to fund a variety of conservation projects
District education programs reach students of all ages, classroom teachers, informal educators, pet owners, homeowners, farmers, contractors, members of the public, and elected officials.
These opportunities include:
Educational workshops for educators in Project WILD and Project WET
Classroom programs for Greenville County schools, reaching hundreds of students each year
Interactive exhibit displays at area events, fairs, and Earth Day celebrations
Funding for outdoor learning centers, community rain garden projects, and school-based conservation programs
Click here to check out our Affiliate Membership Program benefits!