Soil is a dirty topic, but everyone needs to learn more about it! What makes soil healthy? What types of creatures live in the soil? These are questions that need to be answered in the 2019 Essay Contest!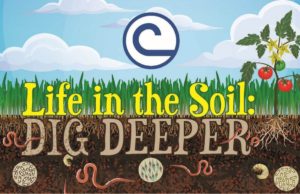 Essays Due Thursday, March 14th, 2019
Open to 5th – 8th grade students
Three winners will be selected in each grade. Each winner will receive a $50 check and will be invited to our annual gala to accept their award. Teachers will also be invited and will receive a special thank you gift!
2019 Essay Contest-Life in the Soil Dig Deeper
Resources
When was the last time you took in a great story but didn't read a word? Soil Survey Division staff have recently created a series of maps and images turning 100+ years of soil survey into maps and images communicating stories that vary in space and depth. Sound interesting? Come take a look. The seemingly chaotic colors of soil are really a mosaic only nature could paint. Come explore parts of the country you are familiar with, or better yet, go explore the patterns that just look interesting and investigate the questions: Where is this, what is this and why is it here? Is this art, science, or both? You decide.