In aerated static pile composting, organic waste is mixed together in one large pile instead of rows. To aerate the pile, layers of loosely piled bulking agents (e.g., wood chips, shredded newspaper) are added so that air can pass from the bottom to the top of the pile. The piles also can be placed over a network of pipes that deliver air into or draw air out of the pile. Air blowers might be activated by a timer or a temperature sensors.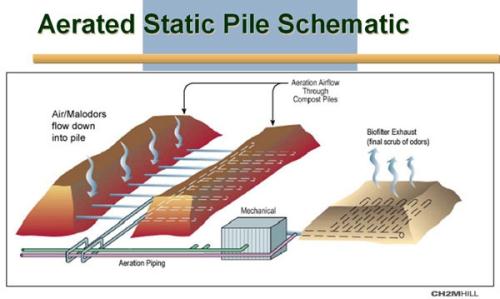 Types of Waste and Waste Generators: Aerated static piles are suitable for a relatively homogenous mix of organic waste and work well for larger quantity generators of yard trimmings and compostable municipal solid waste (e.g., food scraps, paper products), which might include local governments, landscapers, or farms. This method, however, does not work well for composting animal byproducts or grease from food processing industries.
Climate or Seasonal Considerations: Like windrow composting, in a warm, arid climate, aerated static piles are sometimes covered or placed under a shelter to prevent water from evaporating. In the cold, the core of the pile will retain its warm temperature, but aeration might be more difficult in the cold because this method involves passive air flowing rather than active turning. Some aerated static piles are placed indoors with proper ventilation.
Environmental Concerns: Since there is no physical turning, this method requires careful monitoring to ensure that the outside of the pile heats up as much as the core. One way to alleviate bad odors is to apply a thick layer of finished compost over the pile, which can help maintain high temperatures throughout the pile. Another way to deal with odor, provided that the air blower draws air out of the pile, is to filter this air through a biofilter made from finished compost.
Requirements: This method typically requires equipment such as blowers, pipes, sensors, and fans, which might involve significant costs and technical assistance. Having a controlled supply of air enables construction of large piles, which require less land than the windrow method.
Results: This method produces compost relatively quickly-within 3 to 6 months.