Organic waste is formed into rows of long piles called "windrows" and aerated by turning the pile periodically by either manual or mechanical means. The ideal pile height, which is between 4 and 8 feet, allows for a pile large enough to generate sufficient heat and maintain temperatures, yet small enough to allow oxygen to flow to the windrow's core. The ideal pile width is between 14 and 16 feet.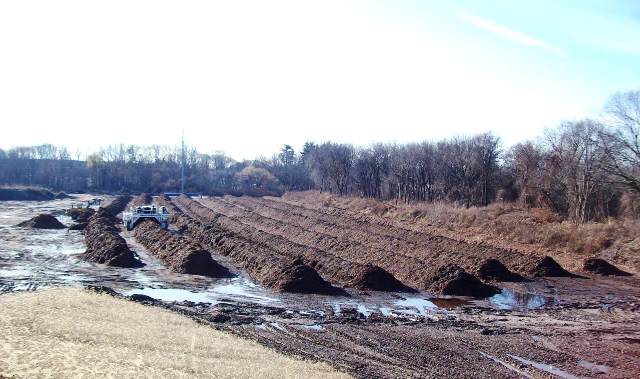 Types of Waste and Waste Generators: This method can accommodate large volumes of diverse wastes, including yard trimmings, grease, liquids, and animal byproducts (such as fish and poultry wastes), but only with frequent turning and careful monitoring. This method is suited for large quantities, such as that generated by entire communities and collected by local governments, and high volume food-processing businesses (e.g., restaurants, cafeterias, packing plants).
Climate or Seasonal Considerations: In a warm, arid climate, windrows are sometimes covered or placed under a shelter to prevent water from evaporating. In rainy seasons, the shapes of the pile can be adjusted so that water runs off the top of the pile rather than being absorbed into the pile. Also, windrow composting can work in cold climates. Often the outside of the pile might freeze, but in its core, a windrow can reach 140° F.
Environmental Concerns: Leachate is liquid released during the composting process. This can contaminate local ground-water and surface-water supplies and should be collected and treated. In addition, windrow composting is a large scale operation and might be subject to regulatory enforcement. Samples of the compost should be tested in a laboratory for bacterial and heavy metal content. Odors also need to be controlled. The public should be informed of the operation and have a method to address any complaints about animals or bad odors. Other concerns might include zoning and siting requirements.
Requirements: Windrow composting often requires large tracts of land, sturdy equipment, a continual supply of labor to maintain and operate the facility, and patience to experiment with various materials mixtures and turning frequencies.
Results: This method will yield significant amounts of compost, which might require assistance to market the end-product. Alternatively, local governments can make the compost available to residents for a low or no cost.