Of all the pollutants out there, litter seems to be the most prevalent – and the most preventable.  Ask most people and they'd say "Litter?  Me?  Never!"  Yet our rivers, lakes, and oceans collect more and more trash each day.  Whether intentional or accidental, littering is extremely detrimental to the health of humans, wildlife, and the environment.  One piece of litter here and there may not seem like a big deal, but if everyone held this mentality, our planet soon be overwhelmed with trash.
Defining Litter
The Environmental Protection Agency (EPA) defines litter as "any manufactured or processed solid waste that enters the environment from any source."  In short, it is our misplaced trash and waste.  Litter can be anything from cigarettes butts to old tires to apple cores.
By The Numbers
According to Keep America Beautiful (KAB) and Palmetto Pride…
Roadway Litter
51 billion pieces of litter appear on U.S. roadways each year. That's 6729 items per mile of roadway across the nation.
46% of litter 4+ inches is packing litter, like food and beverage wrappers and containers.
38% of roadway litter is tobacco products. 22% is paper, and 19% is plastic.
52% of roadway litter is from individual actions by motorists. 8% is from pedestrians, 16.4% is from improperly covered trucks and cargo loads, and the remaining 8.8% comes from other behaviors.
Economic Impact
$11.5 billion goes into litter clean-up costs each year, with businesses paying $9.1 billion of this. The other $2.4 billion is paid by local and state governments, schools, and other organizations.
Property values decrease by 7% with the presence of litter in a community.
Behavior
81% of littering occurs with notable intent.
Individuals ages 30 and under are more likely to litter than those who are older.
Degradation Times
Cigarette butt – 5 years
Plastic grocery bag – 20 years
Tin can – 50 years
Styrofoam cup – 50 years
Aluminum can – 200 years
Plastic bottle – 450 years
Glass bottle – 1 million years
What's the problem?  Won't litter biodegrade?
To answer this, we must first look at the difference between biodegrading, composting, and breaking down.
A biodegradable item, according to the U.S. Federal Trade Commission (FTC), will completely break down and return to nature (i.e. decompose into elements found in nature) within a reasonably short period of time after customary disposal.  In other words, an item must be able to fully break down and then be consumed and digested by microorganisms, leaving no trace it once existed.  These products are often plant-based items derived from corn and potato starch, like a biodegradable cup or bag.
A compostable item, according to the FTC, must be able to break down, or become part of, usable compost in a safe and timely manner in an appropriate composting facility or home compost pile.  Healthy compost, when returned to the earth, improves soil health by adding in beneficial nutrients and microbes.  This means items that leave a residue, like plastics or metals, cannot truly be composted.  Fruit, vegetable, and yard scraps are ideal compost materials.
The most common fate for litter, especially plastic and styrofoam, is to break down into smaller and smaller pieces of microtrash that continue to persist in the environment indefinitely.  These items often contain chemicals, dyes, and metals that leach into the environment as they breakdown, adding toxins to soil and water.  Small animals and filter feeders consume countless pieces of microtrash that they cannot distinguish from food and are unable to digest.
So while it's true that some types of litter will eventually biodegrade or compost, many will remain in the environment for hundreds or thousands of years if not forever.
Please Don't Feed the Wildlife
While that shiny, brightly colored piece of rubbish might look like a tasty meal to an unsuspecting critter, consuming trash can severely harm an animal.  Eating trash can easily lead to choking or suffocating.  If eaten, there is no nutritional value in trash, and animals cannot digest it.  The lucky ones may pass a piece of litter unharmed, but most risk toxic chemicals entering their systems, internal organ abrasion, or blockages.  In extreme cases, animals consume so much litter that they become filled with it, are unable to consume a normal diet, and eventually starve to death.
Consumption isn't the only way litter can be damaging to wildlife.  Aquatic animals can become tangled in abandoned rope, nets, or fishing lines, which render them unable to swim, fly, or otherwise mobilize.  This means they cannot defend against predators, acquire food, or mate.
Litter and the Food Chain
Consuming litter is detrimental from the beginning of the food chain to the end.  When an organism (e.g. a plankton) consumes a toxic substance (e.g. chemicals released by degrading trash), the toxin accumulates in the organism's body.  This is called bioaccumulation.  The organism (plankton) is eaten by a predator (e.g. a minnow), and the toxins enter the body of the minnow.  Because the minnow eats lots of plankton, the minnow accumulates lots of toxins, thus increasing the toxic concentration in its body.  The predator (minnow) is then eaten by a higher level predator (e.g. a trout), and the toxins enter the body of the trout.  Because the trout eats lots of minnows, the trout accumulates lots of toxins, thus increasing the toxic concentration in its body.  This is called biomagnification.  This continues up the food chain to the top level predator, such as a heron or a human, which now consume large amounts of the toxin.  What was once a small concentration of a toxin in the water is now a large level of a toxin in an animal.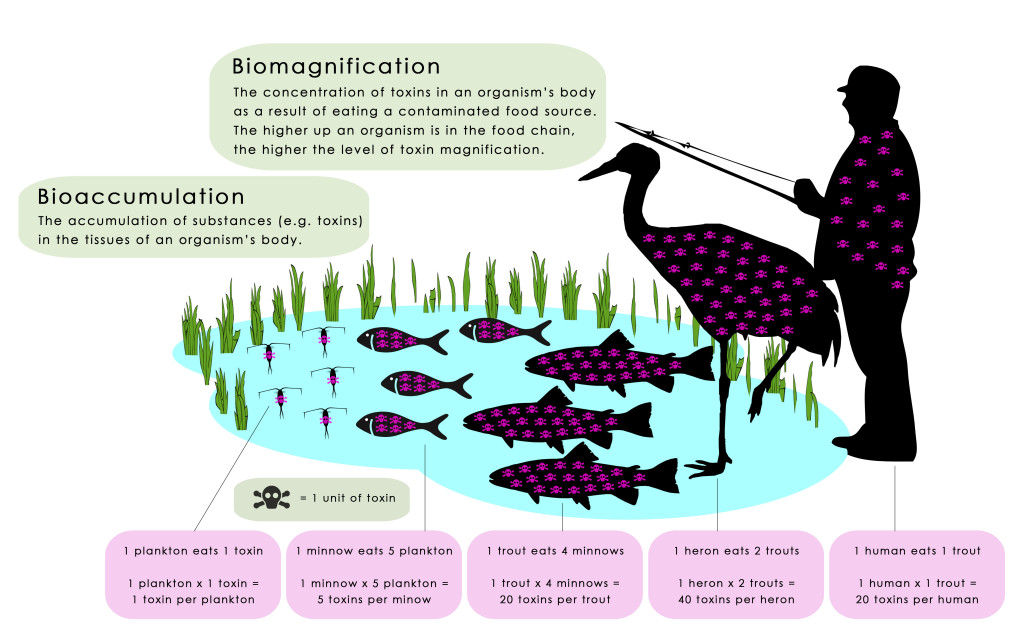 Note:  This illustration is for demonstration purposes only and should not be considered scientifically accurate.
What about food waste?  Is that litter too?
Yes.  Food waste, like apple cores, banana peels, stale bread, etc., is considered litter for several reasons. An animal's natural diet does not consist of food scraps from humans, so their digestive systems have not evolved to eat these foods.  Providing wildlife with "people food" discourages their natural foraging habits and increases dependence on human-given meals.  In urban areas, food litter may attract wildlife into human territory, potentially bringing disease carrying nuisance animals into close contact with humans.  On the road, food scraps bring animals into close proximity to moving vehicles and increases the risk for a wildlife-vehicle collision.  Most state laws in the U.S. prohibit throwing anything from a car window, including food.
Conserving Natural Resources
Many types of litter, like soda cans or bottles, are made from recyclable materials but will not get the opportunity to be recycled and turned into new products because they end up in the environment instead of in the recycling bin.  This means that instead of reusing the natural resources that have already been harvested, like metal for cans or oil for plastic bottles, fresh resources must be harvested instead.  Even if these litters are retrieved during a trash clean-up, they will likely end up in the trash instead of being recycled.
What can I do to help the litter problem?
Most importantly, never, ever litter.  Carry your trash with you in a bag or your pocket until you reach the nearest trash can.  In safe conditions, pick up litter you see on the ground, even if it isn't yours.  With luck, others will see your responsible act and imitate it when they encounter litter.  Report a litterbug to Palmetto Pride online or by phone.  You can also discuss litter with your children, friends, and neighbors to encourage good behaviors in your peers.  You can participate in or organize your own litter clean-up.  Many agencies, like Keep Greenville County Beautiful, will provide you with everything you need for a clean-up: bags, vests, gloves, water, etc.  If you drive a truck, be sure to cover the truck bed with a cover or net if there is any loose debris inside.