Frequently Asked Questions and Common Misconceptions
You may find yourself wondering…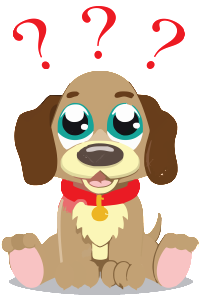 Isn't it bad to put plastic bags full of poop in the landfill? Landfills are lined to prevent contaminants from leaching out into soil and groundwater.  Plastic grocery bags make great pet waste bags, and it enables the bags to be repurposed.  Biodegradable pet waste bags are also available for purchase.
Why do I need to pick it up if it's in my own yard or the woods behind my house? Even if you don't live near a body of water, E. coli bacteria and other contaminants are still picked up by rain water and carried into local waterways.  Everybody lives in a watershed, and every watershed drains into local waterways before eventually traveling to the ocean.
Isn't dog poop a natural fertilizer? No!  A dog's diet and gut composition are much different than those of manure producing animals, such as cows and chickens.  The high levels of bacteria, parasites, worms, and other pests are unsafe to be used as fertilizer.  Dog poop is also highly acidic, which means using dog poop as fertilizer will produce the exact opposite results than you had intended for your yard.
What about wild animals? Dog poop contains 23 million bacteria per gram, which is far more than wild animals.  The natural environment has evolved to handle wildlife that is naturally found in those areas but can only naturally support ~2 dogs per square mile.  In urban areas, there are ~125 dogs per square mile.  The accumulation of waste of all these dogs overloads and strains the natural system.
Can I compost pet waste? Yes!  Special pet waste digesters and composters are available.  Pet waste should never be added to a regular compost pile.  Pet waste must steadily reach temperatures of 165 degrees or more to kill any unwanted residents and eliminate the risk of making humans and animals sick.  Traditional compost piles do not generally reach these temperatures.