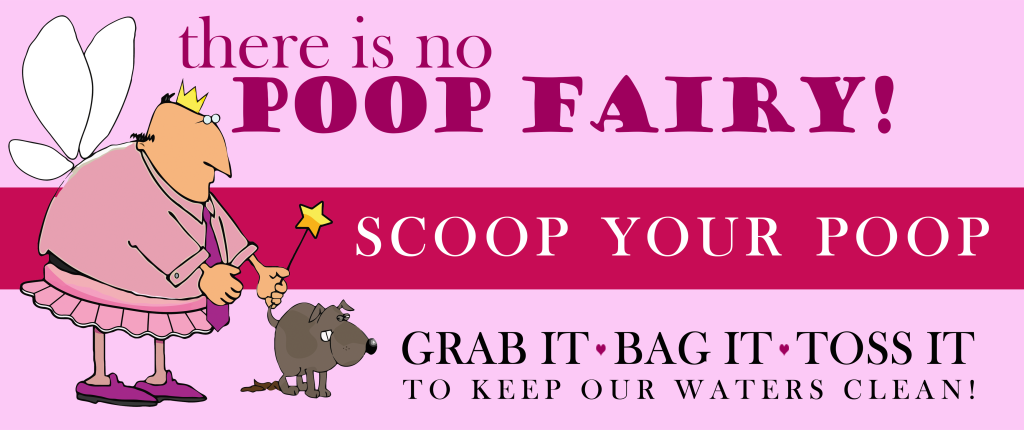 The Problem with Poop
We all know that pet waste left unattended is just plain gross.  But did you know that unscooped poop causes huge problems for waterways like rivers, lakes, and streams?  The EPA classifies dog waste as non-point source pollution, along with herbicides and insecticides, oil, grease, and toxic chemicals.  Not only is pet waste unsightly and smelly, but it contains an abundance of bacteria, parasites, worms, and more that wash into local waterways and pollute our natural resources.  Pet waste can also make people, pets, and wildlife very sick by acting as a vector for disease transmission.  It even attracts unwanted attention from pests.
By the Numbers
The average dog produces 276 pounds of waste each year.  It is estimated that there are 1114,483 dogs in Greenville County producing over 57,000 pounds of waste each day and 15,000 tons annually!  The American Pet Products associated estimates that there are nearly 78.2 million pet dogs in the United States.  In fact, 39% of U.S. households own at least one dog.  According to CNN, a medium-sized dog has twice the impact on the Earth than driving a luxury SUV 10,000 miles!
E. coli and Other Dangers
One of the biggest risks associated with pet waste is E. coli bacteria.  Dog poop can contain 23 million E. coli bacteria per gram of waste, and the average pile contains nearly 3 billion E. coli bacteria!  Pet waste also hosts giardia, salmonella, parvo, worms, viruses, parasites, and more.  These can cause fever, vomiting, diarrhea, dehydration, and other unpleasant symptoms.  Even after solids are washed away, these unwanted guests can stick around on the ground for years!
Waste in the Water
If left unattended, pet waste and the associated contaminants are picked up by stormwater when it rains.  Stormwater (and the pollutants it picks up along the way) is washed down storm drains, where it travels untreated and unfiltered into Greenville's waterways.  In areas that lack storm drains, stormwater flows directly to nearby waterways.
These harmful entities aren't the only trouble pet waste brings to waterways.  Pet waste that decomposes in water is a quadruple threat.  Decomposing waste releases excess nutrients into the water, which cause algal blooms (eutrophication).  Algae blooms can be toxic to humans, pets, and wildlife as well as make recreation, such as boating, swimming, or fishing, dangerous for humans.  Algae can also be harmful because it feeds on and depletes oxygen in the water, meaning there is less oxygen available for the aquatic species that depend on it.  Oxygen is also consumed during the decomposition of pet waste, thus removing even more oxygen from the water.  Decomposing waste also releases ammonia, which damages the health of the aquatic system.
Swimming in the Reedy River… not so fast!
Although the water quality of the Reedy River has come a long way since the days of industrialized Greenville, swimming and wading in the river are still discouraged.  This is because bacteria levels, including E. coli levels, exceed South Carolina state standards.  The Department of Health and Environmental Control (DHEC) reports that of 17 water monitoring sites placed along the river, 12 exceeded fecal coliform levels allowed under the river's designated recreational use in 2010, while another five were impaired for aquatic life.  Much of these bacteria come from pet waste washing into the Reedy and its tributaries.  What may seem like a fun day splashing around near the falls could leave you sick as a dog.
What to do About Doggy Doo
•Grab it, bag it, trash it! Carry bags with you when you walk your dog or while you're on poop patrol in your yard. Seal the waste in a bag, and throw it in the trash.
• Don't like getting up close and personal? Use a pooper scooper for a more hands-off approach.
• Have a problem in your neighborhood or a public space? Pet Waste Stations may be the way to go. Take advantage of our Pet Waste Station Discount Program!
• Commercial pet waste removal services are available. That's right – for a small fee, someone will come to your house and scoop the poop for you!
• Neighborhoods, complexes, and communities can subscribe to doggy DNA testing, like PooPrints of the Upstate.
• Pet waste digesters and composters are available, so you can turn your pup's "trash" into "treasure!"  Visit Greenville County Animal Care at 328 Furman Hall Road to view a pet waste digester in action.  Note: Pet waste digesters and composters are specially designed for pet waste. Never put pet waste in a regular compost pile.  Click here for a guide to pet waste composting.
Still have questions?  Visit our FAQ page for common misconceptions and frequently asked questions.
Download our printable rack card